Marlies Holvoet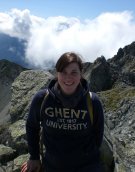 I grew up with a Japanese sugar auntie… And this trivial fact was to determine my fate. Enticed by the most wonderful and curious souvenirs, the subtle taste of Japanese food, and the mysterious sounds that were the Japanese language, I couldn't help but decide to learn more about the origins of those mysteries; Japan, its inhabitants and their culture. Needless to say, sugar auntie was delighted that her cunning plan to woo me had worked. But in order for me to become the in-house translator she had set her mind to, I had a lot to learn. 
After getting my Master's degree in Japanese Studies at Ghent University in 2009, I continued my studies with a postgraduate year in Contemporary Art Management (TeBeAc), a programme co-organized by University College Ghent, the municipal museum of contemporary art S.M.A.K. and Ghent University. To no one's surprise, my research project took me back to Japan, for a comparative study of S.M.A.K. in Ghent and the 21st Century Museum of Contemporary Art in Kanazawa (Sister city of Ghent), in view of reactivating cooperation between the museums.
While in Kanazawa, I learned about the existence of the JET Programme, and as luck would have it, the position for a Belgian Coordinator for International Relations (CIR) opened up the following year. I landed the job and left for Kanazawa in the summer of 2011. I worked as a liaison between Kanazawa and Ghent at Kanazawa city hall until the summer of 2013, when I returned to Belgium.
Upon my return, I went on to teaching Japanese in adult education and returned to Ghent University as a teaching assistant for Modern Japanese, all the while continuing my duties as an "exchange ambassador" between Ghent and Kanazawa. In November 2018, I was appointed president of the newly established Ghent-Kanazawa Supporters' Club, where I intend to support and promote further exchange efforts between the sister cities. 
Besides these activities, I have also been exploring my passion for all things floral, which includes discovering the art of ikebana, and subsequent training in the Ohara school of ikebana, both in Japan and in Belgium. As of February 2019, I am taking this interest one step further, starting work on a PhD as a full-time assistant at the Japanese studies department of Ghent University. The focus of my research will be on cultural nationalism in ikebana and the effects of internationalisation on ikebana theory and practice.